March 28, 2023
An Eye on Minnesota Single-Family Development
The history of Westwood's single-family residential business pans back over fifty years to when Fran Hagen Sr. founded the company in Minneapolis, MN, in 1972. Prior to the 2008 Great Recession, 80% of Westwood's revenue was generated from the residential market. Westwood has since diversified into new markets and balanced its residential portfolio, serving clients in large metropolitan areas such as Dallas, TX, Phoenix, AZ, and Las Vegas, NV, while maintaining a strong presence in the Midwest.  
Minnesota's Twin Cities metro area is the sixteenth largest in the United States. Although it isn't the fastest-growing market for Westwood, Minnesota's single-family residential experiences steady growth year over year. This growth happens despite the seasonality of construction in Minnesota. Midwest winter weather and frost depths can slow construction schedules, though builders have found creative ways to keep working through the season.  
How did 2022 impact Minnesota's single-family market?  
Last year started out busy with many projects set for spring construction. Minnesota homebuilders limited their sales and kept wait lists due to high demand. By mid-year, the sudden increase in interest rates to fight inflation had many buyers pulling back, and sales slowed to levels not seen since 2012. Some projects went on hold as builders adjusted their plans. Housing permits in 2022 fell 26% year-over-year in the Twin Cities market alone.    
Additionally, as new-home sales decreased, so did the inventory of available existing homes. The chart below shows the number of active listings in various markets as compared to 2019, the last full year pre-pandemic. The Twin Cities market has 33% fewer homes for sale now than in 2019, one of the most significant drops in the country.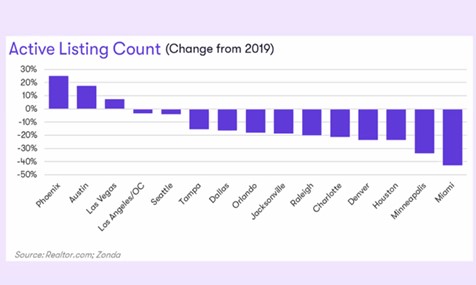 What's Next for the Single-Family Market in Minnesota?  
2023 and Beyond  
The good news is that Minnesota still has high housing demand. In recent buyer surveys, 28 million Americans are looking to buy a home in 2023. Affordability will remain the main obstacle in meeting demand. Builders are lowering prices, paying points, and increasing incentives to move inventory. Master planned communities are progressing with new construction phases in 2023, but with fewer lots than in previous years.   
The increase in mortgage rates has led to a significant increase in new apartment projects, which has boosted Westwood's commercial business workload. Rental housing communities are also on the rise, and builders are planning projects for 2024 and 2025 to fit buyers less affected by mortgage rates. Many empty nesters are cash buyers, so association-maintained and age-restricted communities are being designed. Builders also focus on more affordable products, including smaller homes with more basic interiors and fewer amenities. As more than half of the workforce returns to working in an office, the average home size is dropping. 
This year will be slower for construction services as finished lots are absorbed, but we anticipate growth in 2024 and 2025. Single-family home sales will rebound once buyers acclimate to the new interest rates and builders can deliver products they can afford.  
If you have questions or would like more information, reach out to our experts.