Our extensive experience in the hospitality market includes multidiscipline services for hotels, casinos, and entertainment facilities. From new construction to renovations and expansions, our clients benefit from complete evaluations and solutions for almost any property and land matter with a focus on the physical constraints and environmental requirements of the property. Our team has worked with an extensive list of hospitality clients and project architects to rezone properties and prepare construction-level design plans for multiple sites. Our focus is on the ability to combine creative solutions with the technical, environmental, and operational planning skills necessary for a project's success.
Our sitewide services include master planning, zoning, lot configuration, grading, drainage, utility infrastructure, and demolition package assistance. Our full-service solutions include grading options for the plaza/landscape areas, offsite utility infrastructure improvements, and options to bury existing overhead lines as part of our design.
We understand accessibility is an important consideration for a hospitality project to ensure everyone can access and enjoy the space, regardless of their physical or cognitive abilities. As such, it is essential to consider the needs of all guests when designing the project. Our solutions ensure there are no physical barriers that would prevent someone from accessing the site and space.
Our engineering solutions blend with the designs of our landscape architects to create the amenities typically associated with the hospitality environment. Outdoor socializing spaces, resort pools, roof gardens, and event lawns are a part of many of our designs, ranging from the high-rise hotel to the boutique resort.
Westin Irving Convention Center Hotel
Image
Irving, TX
Client: BOKA Powell
Scope: Landscape Architecture for convention center hotel and its on-structure amenity space. 
American Airlines Hospitality Complex
Image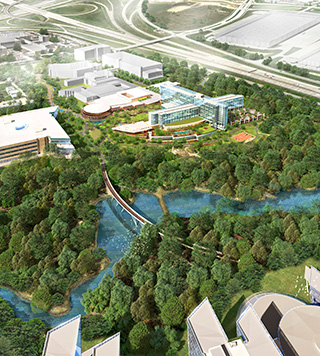 Fort Worth, Texas
Client: American Airlines 
Scope: 600-room hotel, conference, and training center to accommodate American Airlines' growing workforce.
Harwood Hotel #11
Image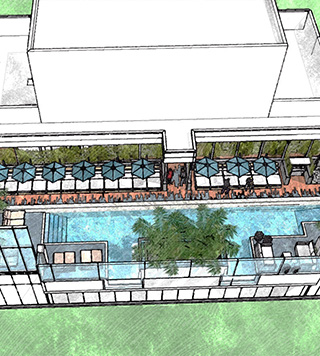 Dallas, TX
Scope: 22-story luxury boutique hotel
 
CHS Field
Image
St. Paul, MN
Client: Ryan Companies US, Inc.
Scope: 7,200-seat project
Orchestra Hall
Image
Minneapolis, MN
Client: NTH, Inc.
Scope: 1.7 acre auditorium expansion
Skye Canyon Community Center
Image
Las Vegas, NV
Client: Oympia Companies
Scope: 13.5-acre recreational facility
 
Core Expertise
Site Development Design
Site Investigation
Master Planning
Site Grading and Drainage
Site Utility Design
Site Paving Design
Erosion Control
SWPPP
Cost Estimating
Construction Observation
Site Optimization
Feasibility Studies
Hydraulics and Hydrology
Traffic Engineering
Landscape Architecture
Environmental Restoration
Urban Planning & Design
Irrigation, Water Harvesting & Stormwater Reuse
Green Roofs & Amenity Terraces
Land Surveying
Questions about getting started on your project?
Need advice from a team with local project experience?
We're here to support you every step of the way!